She Put Truth on the Front Line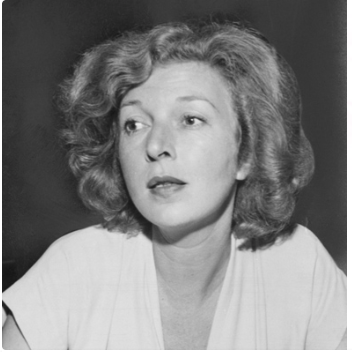 It was 1944, and Martha Gellhorn's goal was to sneak ashore during the bloody D-Day invasion of Normandy. But as a reporter and a woman, her chances of getting into the action were slim to none.
If she were one of the soldiers, however, she knew she'd be right up front. And that was the only way she'd get the firsthand story.
So Gellhorn (1908-98) dressed as a stretcher-bearer and stowed away on a ship heading onto the beach. As other reporters, including her famous husband Ernest Hemingway, watched from the bridge of a landing boat, she splashed her way on to the beach. There she interviewed wounded soldiers, took a long look at the devastation and reported what she saw to the world.
Such bravery marked Gellhorn's determination. Driven by ambition and a desire to expose injustice, she traveled into war-torn areas for seven decades.
She was in Europe in World War II and Asia during the Sino-Japanese War. She also covered the Arab-Israeli conflict, Vietnam and the Nicaraguan war against the Contras. Wherever a hot spot was, Gellhorn went, writing stark descriptions of the horrors she encountered. Upon her death in 1998, the London Daily Telegraph eulogized her as "one of the great war correspondents of the century—brave, fierce and wholly committed to the truth of the situation."
Others give even greater praise. "She was the premier war correspondent of the 20th century," wrote Vietnam reporter Ward Just. Gellhorn is also credited as a pioneer for women journalists. Christiane Amanpour, Ashleigh Banfield and other reporters on the front lines today follow a path paved by Gellhorn.
In the early and middle 20th century, she was one of just a few women who reported directly from war zones. For Gellhorn, it wasn't enough to be close to the action; she thought she'd get the best story only by seeing it firsthand. It was only when she was 81 and her eyesight was failing that she finally bypassed a 1989 trip to Bosnia to cover the conflict there.
Together, Gellhorn and Hemingway were the first reporters to get to Belchite, Spain, in 1937 after loyalists took the town during the Spanish Civil War. They climbed steep, rocky trails on foot and horseback to get the story, wrote Carlos Baker in "Ernest Hemingway: A Life Story." Gellhorn was willing to do whatever it took to get the real story. It wasn't unusual for the pair to get food from peasants and sleep in open-roof trucks with chickens, cattle, sheep and donkeys all around. "Martha endured these hardships with typical courage and aplomb," wrote Baker.
"She had a kind of internal engine that was revved up by the notion of outrage and injustice," said Carl Rollyson, a professor at New York's Baruch College and author of "Beautiful Exile: The Life of Martha Gellhorn."
Gellhorn's father inspired her, Rollyson says. He was an intensely curious man and a staunch individualist who had traveled extensively in his youth. When Martha was a child, he frequently told her tales of the places he'd been. "That had an enormous effect on his daughter," said Rollyson.
For her, being first with a story was crucial, even when it pitted her against her more famous husband. When she saw a German V2 rocket for the first time flying overheard, she reportedly told Hemingway, "That V2 is my story, not yours." Gellhorn ignored Hemingway's suggestion that she write under the name Martha Hemingway. After brief travels together, he was happy working on novels at their comfortable Cuban home, Finca Vigia.
But Gellhorn got bored and restless with domestic life. She thought her talents were best focused on journalism. She left in 1943 to cover Nazi concentration camps, including Dachau, where she did some of her most noted work. The relationship never recovered. When they divorced in 1945 after just five years, Gellhorn cited professional jealousy on his part as a key reason.
Gellhorn's determined nature was evident from an early age. She had two strong role models at home. Her father was a hard-working and prosperous doctor in St. Louis. Her mother helped found the League of Women Voters.
During a stint at Bryn Mawr College, she showed her affinity for writing. In three years, she published 42 poems. But she decided experience would be a better education, and dropped out of school in 1929. She brought writing samples to magazines and newspapers, and found work writing articles for the New Republic. By 1930, she decided she needed to get to Paris to learn from the great writers then living there. She found a gig writing for Holland America Line cruise company to pay her way. While in Paris, she wrote her first book.
In 1934, she returned to the U.S. to a country deep into the Great Depression. She landed a job with the Federal Emergency Relief Administration, traveling around the country to report on Roosevelt's welfare policies. But her blunt reports of the suffering of impoverished Americans, with no politically correct sugarcoating, got her fired.
Gellhorn refused to compromise the truth. It wasn't the last time she would be fired for her honesty. She was later banned from South Vietnam for describing accurately the decimation she saw there.
After Gellhorn was dismissed from her government job, Eleanor Roosevelt, a friend of her activist mother and a fan of Gellhorn's writing, came to her rescue. She offered her a temporary home in the White House.
There, Gellhorn met novelist H.G. Wells, who in 1936 agreed to write the preface to her first book of stories, "The Trouble I've Seen." The book earned her acclaim as a novelist. She went on to a prolific career in both fiction and nonfiction.
Gellhorn At A Glance
Born: 1908 in St. Louis.
Died: 1998 in London.
Education: Attended Bryn Mawr College.
Achievements:
—Considered one of the best and most influential war correspondents of the 20th century.
—Became one of only a few women to cover the Spanish Civil War (1936-39), D-Day (1944) and Vietnam (1963-78).
—Wrote five novels, two short story collections and 14 novellas.
—Won the O. Henry Award in 1958 for "The Smell of Lilies."