When a legendary local company is taken over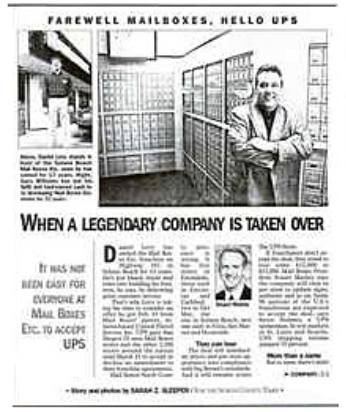 Daniel Levy has owned the Mail Boxes Etc. franchise on Highway 101 in Solana Beach for 14 years. He's put blood, sweat and tears into building his business, he says, by delivering great customer service.
That's why Levy is taking his time to consider an offer he got Feb. 10 from Mail Boxes' parent, Atlanta-based United Parcel Service Inc. UPS gave San Diego's 55 area Mail Boxes stores and the other 3,300 stores around the nation until March 21 to accept or decline an amendment to their franchise agreements.
Mail Boxes' North County presence is strong. It has five stores in Escondido, three each in Encinitas and Carlsbad, two in Del Mar, the one in Solana Beach, and one each in Vista, San Marcos and Oceanside.
They can lose
The deal will standardize prices and put store appearance into compliance with big Brown's standards. And it will rename stores The UPS Store.
If franchisees don't accept the deal, they stand to lose some $12,000 to $15,000. Mail Boxes president Stuart Mathis says the company will chip in per store to update signs, uniforms and so on. Some 90 percent of the U.S.'s franchisees are expected to accept the deal, says Steve Holmes, a UPS spokesman. In test markets in St. Louis and Seattle, UPS shipping volume jumped 70 percent.
More than a name
But to some there's more at stake than a name. Longtime Mail Boxes chief executive Tony DeSio says that dropping the Mail Boxes name from store fronts will be a loss to San Diego. Like Qualcomm Inc., another internationally known company born in San Diego, DeSio says Mail Boxes is a local success story. It's a brand that he and other executives worked for almost two decades to build, he says.
Stores outside the U.S. are not being asked to change their Mail Boxes name, but in the U.S., the name eventually will exist only at its Sorrento Valley headquarters. "I'm not thrilled to see the name brand that I developed over the years disappear," says DeSio, now retired and chairman emeritus of Mail Boxes.
DeSio says in 1980 the company had one store, U.S. Mail Boxes. That morphed to Mail Boxes Etc., USA, and finally to Mail Boxes Etc. by 1983. Even though he's proud of that heritage, DeSio says if the new UPS name benefits the franchisees on their bottom lines, he's for it.
Pride involved
Mathis, who credits DeSio and other early executives with much of the company's growth, says he too is proud of the Mail Boxes name. "We certainly take a lot of pride in the Mail Boxes Etc. brand,." says Mathis. But he's confident the change is a good move. "While there may be some nostalgia relative to seeing the MBE brand go away domestically, we believe this is definitely the right direction for the company."
Since its 1980 birth, Mail Boxes grew to become the largest non-food franchise in the world, with 4,500 stores in the U.S., Japan, Sweden, South Korea and other countries. During DeSio's tenure, from 1980 to 1998, some 300 franchises were added per year, he says. When the company went public in 1986, Wall Street rewarded it with 10 years of 15 percent to 20 percent earnings growth, he says.
But since its 1997 acquisition by U.S. Office Products, which later went bankrupt, Mail Boxes languished in financial turmoil and growth stalled. UPS had taken a 10 percent stake in 1984 and finally acquired Mail Boxes in 2001. The move was seen by DeSio and others as an opportunity for the company to get back on track via the strength of its new parent.
With the flow
For his part, Levy says he's leaning toward taking on The UPS Store identity. His Solana Beach store is the oldest Mail Boxes store in existence, franchised in 1981 just down the coast from the original store in Carlsbad, Calif., which is no longer there. He says UPS gave a convincing presentation about higher shipping volume, revenue and customer counts.
On the downside, FedEx Corp. says it will no longer allow its service to be sold in UPS named stores. Levy worries that could cut into profit. Plus, he notes that he and the other franchisees will have to pay for stationery and other items not covered in the agreement.
Holmes says the benefits far outweigh the detriments. "The increased UPS shipping levels that we saw in the test market more than made up for any other shipping sales that would have been at a decrease," says Holmes.
And some analysts say the new name will likely be a boon for Mail Boxes stores.
UPS has gained attention in recent years for its high-profile and highly successful "Brown" advertising campaign, says Julie Cottineau, managing director of naming at consultant Interbrand Corp. in New York. "It's an exciting time for this to happen because UPS is on a roll," she says.
Customers care
The Brown media blitz has made consumers care about who handles their boxes, says Cottineau. "They've put a face on the company through the color," she says. That's bound to bring more business into Mail Boxes stores who adopt the new name.
Holmes says the change is a no-brainer. "I have a great brand, well-known in the industry it's in, which is Mail Boxes Etc. And then I have one of the most powerful brands in the world. Which one am I going to take?"
Another benefit, says Gary Williams, owner of eight San Diego stores, is that the new name solves a bit of an identity crisis that Mail Boxes has.
Williams, who also owns franchise rights to much of Southern California, says that the UPS name adds respectability and distinguishes Mail Boxes from its like-named rivals.
As the communication liaison between Mail Boxes and franchisees in the area, Williams says he's had no negative feedback from San Diego store owners. He notes that a similar situation happened in 1994, when Mail Boxes decided to create a national media fund to pay for advertising. Franchises were offered the chance to voluntarily participate. Some 92 percent of did so right off the bat, he says.
All the savings
After more than 20 years as a Mail Boxes franchisee, Williams says he's happy to see the business evolve and grow. Like DeSio, he remembers the early days with fondness and pride. He and his wife sank their life savings into Mail Boxes early on, he says.
"Nobody knew who MBE was. UPS didn't even respect us back then," he says. Now, UPS can help Mail Boxes grow to the next level, he says. Indeed, UPS does aim to grow the number of UPS Stores to 5,000 by 2007, says Mail Boxes spokeswoman Jessica Bongers.
That's an aggressive goal, but not impossible, especially when considering the stellar rise of what some saw as an unlikely company. "I remember in the early days when we said Mail Boxes Etc., people thought we sold front-yard mailboxes," says DeSio.
And today, Williams is in the midst of building San Diego's 56th store, in Poway. He says great people will remain a Mail Boxes' strong point no matter what its name is. "The UPS brand can bring more people in the door" but personable, efficient service in franchises will keep them coming back, he says.
Formal announcement
Personal interaction is key, agrees Cottineau. "The quality of my experience has to do with the person helping me behind the counter a lot more than the name that's on the door."
On April 6, UPS will launch a $15 million advertising campaign to introduce the newly named stores. The idea is to smooth the transition and make sure consumers know that the stores still have more than shipping services inside, says Holmes. Copying, packaging, notary and other services still will be key offerings.
Although it will take until the end of the year to update stores around the country, Mathis says most should have a new banner or poster in the window by April 7.
Analyst Cottineau says a cycle of rejection, reaction and eventual acceptance is not unusual during a company name change. "Changing a name is a very uncomfortable thing," she says. That doesn't mean it's a bad idea, she says.
But as it stands, consumers should expect to see Mail Boxes' red, white and blue replaced by UPS brown in a matter of weeks.
UPS doesn't break out its revenue by subsidiary but Holmes says a franchise newsletter credits Mail Boxes with some $1.5 billion of UPS's annual sales. UPS's revenues for 2001 were $30.6 billion. For the most recent quarter, ended Dec. 31 it reported sales of $8.26 billion. That puts it way ahead of its closest rival FedEx, which posted sales of $5.67 billion in its fiscal second quarter, ended Nov. 30.